Incubator
Biochemical incubator/BOD incubator

Uses:
Apply to the production department of environmental stewardship, health and epidemic prevention drug tests, livestock, aquaculture and other research institutions.It is the dedicated thermostatic device of water and BOD determination, bacteria, fungi, microorganisms cultivation, conservation, plant cultivation, breeding experiment.


Characteristics:
1.The shell is made of high quality steel, the surface electrostatic spraying process, the film is firm and beautiful, beautiful shape, and novel.
2.It adopts mirror stainless steel inner container,semicircular arcs design at the corners, easy to clean, the inside spacing of the shelvesisadjustable. Ontheleftside of the chamber equippedwithaΦ50testhole which is convenient tocheckand externalbuilt-in deviceleads fortheusers.
3.The two-doordesign makes the heat preservation effect is more ideal, opentheoutsidedoorthroughthebuilt-in largeglass doorand lighting fixturestoobservetheitems in the working room,the perspective is more broader.
4.Microcomputer temperature controller, you can set and adjust the temperature and time, precise temperature control, temperature regulation is convenient,the value showing is accurate and intuitive, reliable performance, the overall shape is beautiful, generous, easy maintenance.
5.Refrigeration system adopts original compressor.
6.UV Sterilization System,UV germicidal lamp is at the top, which can disinfect the inner container regularly.Effectively kill thefloatingbacteriainthecirculating air of the cabinet, thus effectively preventcontamination during cell culture.(Mold incubator has this function).
7.We can also add printer and RS-485/232 interfaces before the order according to user requirements.
Model

Voltage

Rated power
(KW)

Wave degree of temperature
(°C)

Range of temperature
(°C)

workroom size
(mm)

Capacity
(L)

number of shelves

SPX-80

220/50HZ

0.5

±1

5~60

300*475*555

80L

2

SPX-150

220V/50HZ

0.9

±1

5~60

385*475*805

150L

2

SPX-250

220V/50HZ

1

±1

5~60

525*475*995

250L

2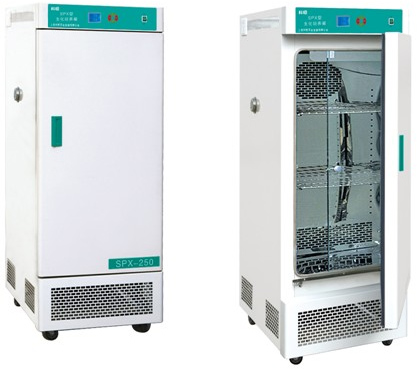 Constant temperature and humidity incubators

Uses:
With precise temperature and humidity control system,this equipment provides variety of environmental simulate sonditions that industrial research and biological test need.It is used in medicine,textile and food production experiment,as well as in product stability,raw material,packing and lifetime test.


Characteristics:
1. Mirror stainless steel inner chamber, foursquare semicircle transition,convenient to clean;space between shelves is adjustable.
2. Micro-computer temperature and humidity controller with program of 30 sections to ensure timing,repeated or multistep running of temperature and humidity,Function of over temperature protection and timing, LCD enables multiple groups of data to displayed at a time.
3. Test hole of dia 50 at the left side of chamber.
4. Brand compressor,fluoride-free refrigeration.
5. Double airtight door,which is convenient to on/off; with light in the inner chamber for convenient viewing(the lamp can be replaced with ultraviolet ray sterilizing lamp as user's need)
6. Equipped with ultrasonic humidifier and intelligent atomizer.
7. Intelligent refrigeration and defrosting system,no freezing in the inner chamber.
8. Function of auto running,auto stopping and time running, as well as parameter memorizing.Power reset recovering and temperature display revising.
9. Watch timer and independent temperature safety device,auto alarm and auto break off when oven temperature limit to ensure experiment runs safely.
Model

Voltage

Rated power
(KW)

Wave degree of temperature
(°C)

Range of temperature
(°C)

Range of humidity
(%)

Wave of humidity

Capacity
(L)

HS-80

220V/50HZ

1.0

±1

5~60

50~90

±5%~±8%RH

80

HS-150

220V/50HZ

1.5

±1

5~60

50~90

±5%~±8%RH

150

HS-250

250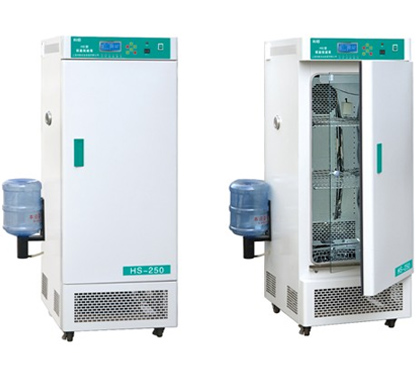 Factory